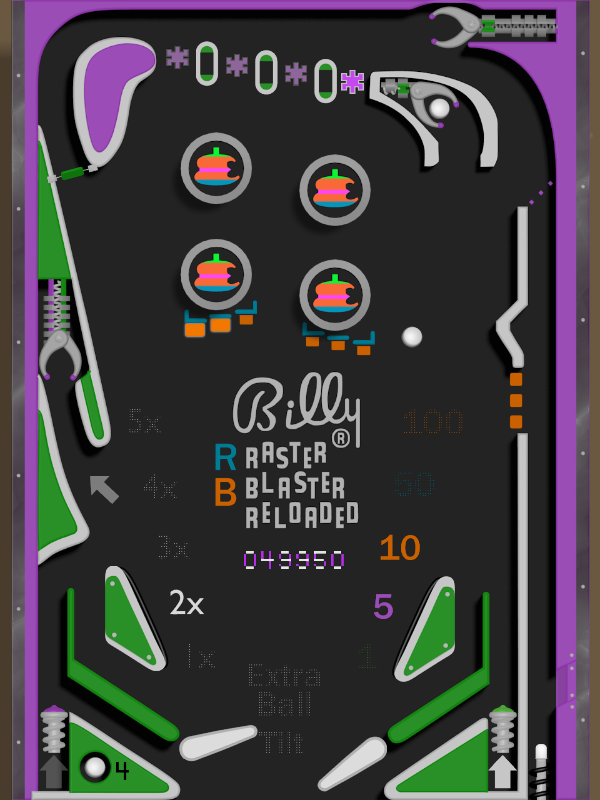 From 1981, a classic reappears for modern gaming.
Introducing Raster Blaster Reloaded, a pinball game that pays homage to the very first virtual pinball game: Raster Blaster on the Apple II. This is the second game from the Hip Pocket Pinball Series. Available for Windows, MacOSX, Linux and Android.
The original Raster Blaster borrowed it's rules and queues from the Firepower pinball table.
This is a remake of the layout, rules and sounds of the original, but is not an emulation of the original 8-bit feel.
How to play
Press Enter to Start the game.
Hold the down arrow to pull back the plunger, or press the up arrow to smack the plunger hard.
Press the flippers with left and right shift, or left and right control keys.
Light the two groups of top orange lights, to unlock 2 multi-ball claws at the top, and lock the ball lane shields at the bottom. Light them again to unlock the third claw.
Light all right hand orange lights to lock both ball lane shields.
Shoot all balls into the claws.
When all claws are filled, they will drop for multi-ball.
When all groups lights at the very top are filled, multiplier is increased. 6x gives a free ball.
Press space to bump the table. Too many bumps will tilt the table and the flippers will lock you out of play.